About the Book
---
Introducing "RITchie Finds His Stripes," a book for all RIT Tigers
Read below the touching story of how it all came together.
---

Our story begins back in 1989 with a 3rd year RIT College of Liberal Arts student named Rick who was also enrolled in the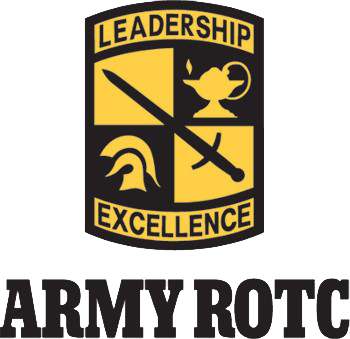 program and working as a DJ at

.

One day, after leaving the basement offices of WITR, Rick strolled up to the RITz where he saw a display board in front of the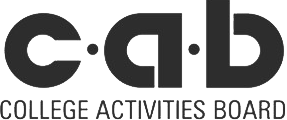 office.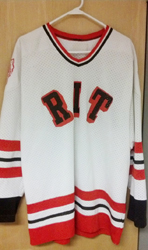 It was on that board that said "Name the New RIT Mascot, win a $50 gift certificate to Campus Connections." Given the chance to win $50 and name the new mascot, Rick quickly jotted down his entry, in his own name, "RITchie," and entered the contest. After several weeks, Rick found that he had named the new mascot "RITchie," and won $50! He went up to the Campus Connections office and met with John Roman who congratulated him and handed Rick the gift certificate. Beaming with pride, Rick went back downstairs and bought an RIT Hockey Jersey.
Fast forward to 2012: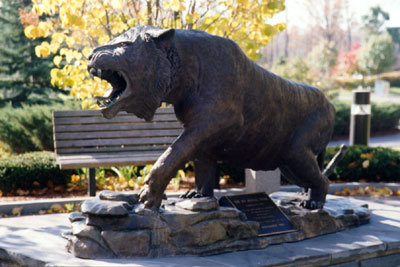 Rick was walking on the RIT campus again with his two daughters, when they came upon the Bengal statue outside of the Kodak quad. That's when Rick told his girls his story about naming RITchie. The girls suggested that RITchie needed a book to tell his story. So it was at that moment, standing at the RIT Bengal statue that Rick and his two daughters began the process of writing a book about RITchie.

SPECIAL: See some of the Early Development Notes!

Later that year, Rick accepted a professorship in the new department of Computing Security and moved to RIT. Unfortunately, during that first year back to RIT, Rick's wife and daughters stayed in Michigan to take care of his ailing father-in-law. But, for that whole year, through the magic combination of the Internet, Skype and Dropbox, several RIT students, staff, and faculty, Rick and his daughters completed the text and basic imagery for the new book, RITchie Finds His Stripes!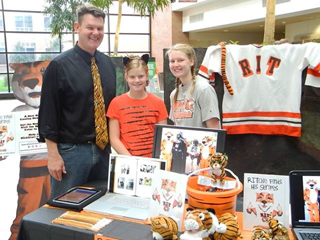 Fast forward to 2023:
Now, Rick and his family are back together in the Rochester area, working with artist Rachel Bentley putting the finishing touches on the book!

We hope you enjoy it!
Order the Book